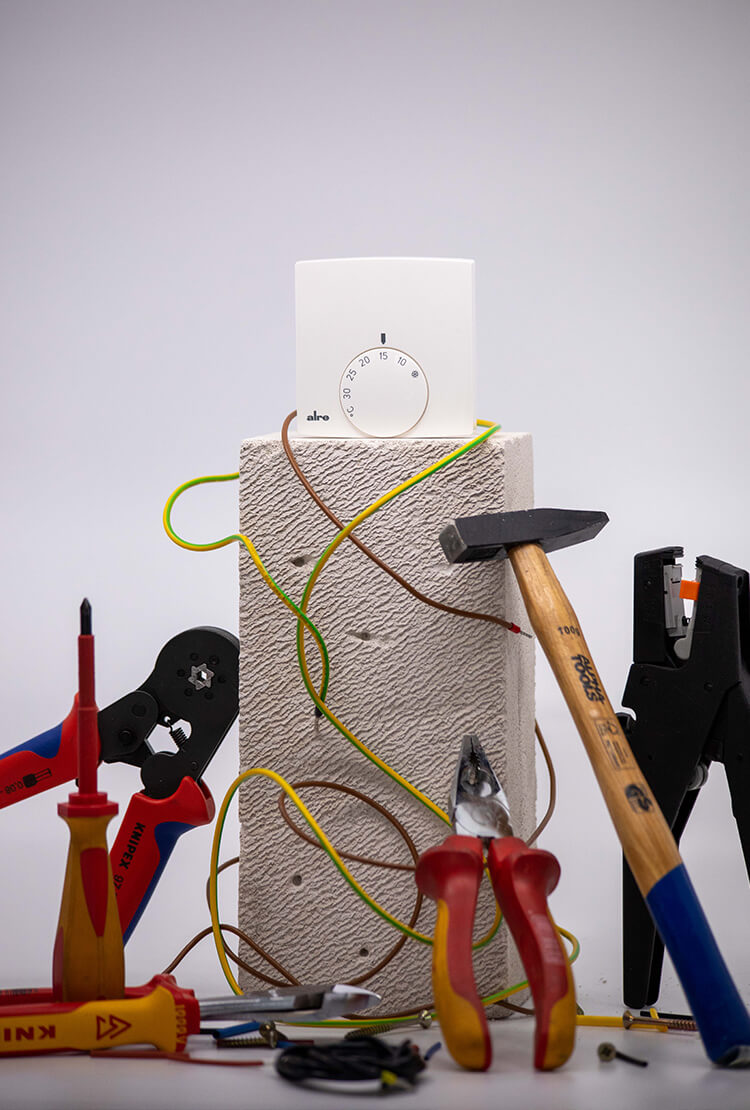 Good climate everywhere
Intelligent solutions – for people and buildings
We are an established Berlin-based company operating in the field of control technology. We manufacture high-quality products for heating, climate and systems engineering with a focus on room thermostats. Our wide range of products can be used in many different areas – ranging from homes and offices to hotels and public buildings
We recognise trends early on and respond to them with new innovative products. We couple state-of-the-art technologies with the knowledge we have gained over more than 5 decades and always deliver German quality. Effective product development and strict quality checks underpin the longevity of our products.
A room can only be perfectly comfortable if it has the right combination of warmth, climate and air quality. Optimal control ensures high energy efficiency. So comfort is maximised and resources are protected.
alre – intelligent solutions
Perfect customer service and the highest quality are our focus. This has been confirmed since 1994 by ISO 9001 certification. Alre is part of the successful business group INTER CONTROL.
Quality leadership
We set the highest quality standards for all our products. Even in the development stage, the end quality is crucial to us. With our experience in development and extensive durability tests in extreme conditions, we have the leading position over competitors.
Technology leadership
Precise knowledge of the particularities of our products and their use means that we always choose the right technology as a means to an end and quickly apply it. This is one of the most important factors as an input for our innovation process.
Innovation
Continuous innovations are the best means to sustainable success. To ensure these innovations, we need an efficient innovation process, which we specifically and continuously encourage. That is the only way we can offer our customers tommorrow's solutions today and therefore, contribute to their success.
Flexibility
We always have a sympathetic ear – even for unusual ideas. We are quick and flexible with a modular and elaborate range of products as well as the willingness to try out new ideas and high impact organisation.
Reliability
We only make promises we know we can keep. Our business thrives on reliability, efficiency and planning for our work and our products. Therefore, we can't promise everything but what we do promise, we stick to.
Proximity to customers
Understanding precisely what our customers want and the problems they face is very important to us. The challenge for us is in completely understanding the requests and fulfilling them optimally. Our goal is to have the highest possible level of customer satisfaction. We keep a close eye on the market and act on the signals it gives us. We want to be your first contact in the search for efficient suppliers of development proposals.
Vision
Our customers see our services as a significant contribution to their own success. We are our customers' first choice when it comes to innovative products and problem solutions. Our customers find the right solution for the demands of their market in our range of services.
Mission
Successful partnership based on mutual trust. With a high level of integrity, commitment and customer-orientation, we create the basis for a close collaboration that benefits everyone involved.
If you have any questions about our products or want to learn more,
please contact an electrician, plumber or heating installer you know and trust, or drop us a note.